Cervical collars, also known as neck braces, are now a must-have, if you are a Nigerian politician. My first encounter with these lifesavers was as a youth corps member in Marina Lagos, posted to the head office of one of Nigeria's commercial banks. Before then, I only saw them on TV and on rich people every now and then.
Foolish, I know, but for some inexplicable reason, I associated them with some form of bourgeois. And for the life of me, I couldn't fathom what substance they were made from. Judging by their stiffness alone, I could have sworn there was some kind of iron thing holding it up. Could it be metal, was it fabric or a combination of both?
What I figured, though, from watching a lot of medical drama and hospital scenes in movies and soaps was that the medical condition had to be severe for anyone to have them on.
I can't really recall what it was any more, but it must have had something to do with the pain I felt around my neck and all the way down my spinal cord. I can't recall if I slept badly or if it was something else, but it was severe and extremely uncomfortable moving around; plus, I wasn't getting much work done. Since I was moving around like a wound-up robot, I was ordered to drop everything on my table and go see a doctor.
It was a very big bank with a robust in-house health facility, so even though I was only a corps member serving with them, the doctor I saw was quite generous in prescribing some days of rest and medication for me.  I tell you, I didn't see the cervical collar coming. That was extra-generous and totally unexpected.
When I put it on for the first time, it felt soft. That was the first thing that got me. And then I looked into the mirror and in that instant I knew that collar and I would form a mischievous partnership that would span years.
Long after the pain subsided, I kept wearing that neck brace. It became a very special fashion accessory that earned me some extra days off with special privileges at home. And even when I resumed work, I wasn't allowed any heavy lifting or assigned any strenuous task.
My cervical collar was with me for the rest of my NYSC days and I'd take it along with me to my first job post-NYSC six months later.
I've never been a truant. I'm not the kind of person to skip work just to laze around and do nothing at home, but every now and then a man had to do what a man had to do. Like those times I had a job interview somewhere else and didn't want anyone in the office to know about it, or when a friend was getting married and I had to leave town on a Friday so I could travel – those times, my cervical collar came to the rescue.
There was one time, because I was in a long distance relationship, I had to travel to sort things out; that collar made it happen. The moment I put it on, the sympathy I received was overwhelming. They wouldn't let me touch anything at work. I, of cause, would put up a fake resistance, but ultimately I'd be begged and escorted off to the bus stop to get a cab. I had a car, but I figured driving would be giving myself away.
Seeing so much cervical collars popping up all of a sudden amongst our political class brought back memories of that foamy object that saved me a number of times in the past.
I don't know the current cost in the market today, but I would strongly recommend it to everyone, not just politicians. For students who are not yet ready to write that test, for employees that need to take some time off, and even for husbands and wives that need a break from carrying out some of the married people's duties, ask your doctor to hook you up. When you have one, you really don't need to talk too much. Just point to your neck, it's as simple as that.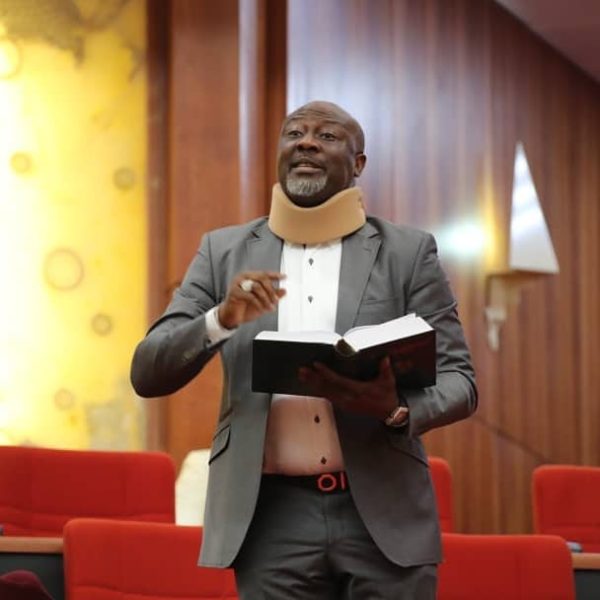 I guess that is the reason so many politicians and big men are wearing it these days. If you have to be in court and want the sympathy of the judge, put it on. If you want to address the Nigerian people before an election, put it on. And if you can manage to conjure a tear or two into the mix, then you have a clincher.
So, if you've been tear-gassed, locked out of a building, in a fight, or you're generally having a bad day and need a break, get a cervical collar—and a sad face—and watch as your fortunes turn around for good.  I understand the demand for them is high these days, but if they are unavailable in your locality, call someone in Ekiti.
Photo Credit: Instagram/dinomelaye
This post first appeared on Bella Naija
Written by : Michael Afenfia
Subscribe To My Newsletter
BE NOTIFIED ABOUT BOOK SIGNING TOUR DATES
Subscribe to my newsletter